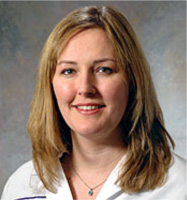 Jessica Curley, MD, PhD
2011 Alumni Scholars, Associate Junior Faculty Scholars
Jessica Curley MD, PhD is a Clinical Associate in pediatric nephrology. She also is the director of the pediatric quality assurance committee. While she has always loved to teach and provide clinical care, she has eagerly helped develop and continuously improve efforts to increase patient satisfaction as well as the quality and safety of care provided at UCM.
2013 Pilot Grant Project: Quality Improvement vs. Research: Controversies and Confusion
In 2014, Dr. Curley joined the Rocky Mountain Kidney Center in Denver, CO.