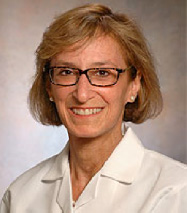 Jessica Kandel, MD
2014 Master Clinicians
Jessica J. Kandel, MD, is an expert in pediatric surgery. She specializes in the treatment of pediatric cancers, including Wilms tumor, neuroblastoma and hepatoblastoma, as well as vascular anomalies (hemangiomas, venous malformations, lymphatic malformations).
Dr. Kandel's research focuses on the development and differentiation of blood vessels (angiogenesis) in solid tumors and vascular anomalies. She was a leader in early studies that suppressed tumor growth by blocking vascular endothelial growth factor, a protein that stimulates angiogenesis. Dr. Kandel's work contributed to the development of bevacizumab, a drug used to manage metastatic colorectal, lung, and kidney cancers.
As the primary investigator on several long-term studies, Dr. Kandel's current goal is to understand how tumors become resistant to therapies in order to identify new treatments for refractory cancers. Her research has been funded by notable organizations including the National Cancer Institute, the American Cancer Society, and the Pediatric Cancer Foundation.
Dr. Kandel has contributed widely to medical literature, publishing more than 60 peer-reviewed articles and three book chapters on angiogenesis and tumor growth. She currently serves as an editor for Oncology Letters and as an ad hoc reviewer for several other scientific journals. In addition, Dr. Kandel is a popular speaker and a dedicated educator, mentoring medical students, residents, and fellows on a range of research projects related to tumor modeling.