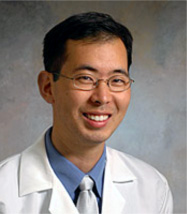 John Yoon, MD
2012 Junior Faculty Scholars
Dr. Yoon is an academic hospitalist and medical educator with research interests in the field of virtue ethics, moral psychology, and the moral and professional formation in medical education. He is currently co-investigator on the Project on the Good Physician, a longitudinal study of medical students funded by the New Science of Virtues Project at the University of Chicago. After completing a Clinical Ethics and Hospitalist Scholars research fellowship at the University of Chicago in 2010, he also completed the MERITS Fellowship in Medical Education devoted to the study of professionalism and moral formation in medical education.
He has recently received grants from the Center of Health Administration Studies at the University of Chicago as well as from the National Center on Minority Health and Health Disparities (NCMHD) to support his work. Dr. Yoon also has an interest in global health and recently returned from a trip to Pyongyang, DPRK to promote academic collaboration in the areas of international medical education and public health.
Dr. Yoon is now a Bucksbaum Senior Faculty Scholar.
2012 Pilot Grant Project: Operationalizing the Virtues for Good Doctor-Patient Relationships