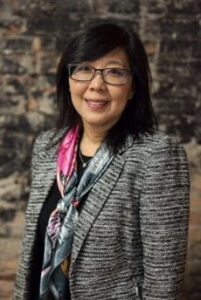 Karen Kim, MD
2022 Senior Faculty Scholars
Karen Kim is the Sara and Harold Lincoln Thompson Professor of Medicine, Associate Director of the University of Chicago Medicine Comprehensive Cancer Center, and Director of the Center for Asian Health Equity.
As Vice Provost for Research, Kim works with faculty and deans to support and enhance research funding and manage large-scale research infrastructure such as University Research Administration (URA) and the University of Chicago Consortium for Advanced Science and Engineering (CASE), the Office of Research Safety, Research Computing Center, and Research Development Support.
Dr. Kim previously served as Dean for Faculty Affairs for the Division of the Biological Sciences and is the Associate Director of the University of Chicago Comprehensive Cancer Center. She is the founder and director of the University of Chicago Center for Asian Health Equity, the only research center dedicated to the study of Asian health disparities in the Midwest, and a national leader on policies for inclusion of Asian-Americans in research.
With extensive expertise in community-based participatory research (CBPR), dissemination and implementation science, intervention and minority health research, Kim has focused on the rigorous development and evaluation of multi-level strategies to advance health equity supported by the Centers for Disease Control and Prevention, the National Cancer Institute Beau Biden Cancer Moonshot Initiative, and the Department of Health and Human Service's Office of Minority Health and the National Institutes of Health. Kim's research has a specific focus on the content domain of colorectal cancer prevention and on the methodological domain of implementation science. Recently, Kim's research has focused on developing innovative technology-based solutions to address gaps in health care services among federally qualified community health centers.
In addition to her research, Kim is deeply committed to civic engagement and has dedicated significant time to advancing health through service to numerous nonprofit organizations and national boards. Kim has been nationally recognized for her advocacy and policy work and received the International Women's Leadership Award, the Chicago Foundation for Women Impact Award and the Cancer Prevention Laurel for Increasing Health Equity.
She is a member of the American College of Physicians, American Gastroenterological Association, and the American Medical Association, American Association for Cancer Research and the American Public Health Association.