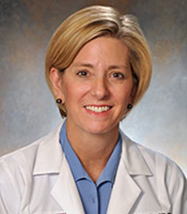 Kathryn Colby, MD, PhD
2017 Alumni Scholars, Master Clinicians
Kathryn Colby, MD, PhD was the Louis Block Professor of Ophthalmology and Visual Science and the Chair of the Department of Ophthalmology & Visual Science.
Dr. Colby is an internationally renowned ophthalmologist with expertise in managing complex medical and surgical diseases of the cornea and ocular surface. Dr. Colby has a particular interest in Fuchs' dystrophy, the most common cause for corneal transplantation in the United States, and is currently pioneering novel treatments for this condition. In addition, she has specific expertise in the management of ocular surface tumors, including conjunctival melanoma and squamous cell carcinoma.
Dr. Colby is an active researcher whose contributions have enhanced outcomes for patients who require keratoprosthesis (artificial cornea) surgery. She has an ongoing interest in corneal infections and has published extensively in this area. Dr. Colby was instrumental in determining the optimal surgical techniques for placement of the implantable miniature telescope, a vision-rehabilitative device for patients with macular degeneration.
Dr. Colby is a passionate educator who trained hundreds of medical students, ophthalmology residents and cornea fellows during the two decades she spent at Harvard Medical School prior to coming to the University of Chicago to lead the Department of Ophthalmology and Visual Science. She lectures around the world on numerous corneal and clinical research topics. She has leadership roles in various national and international societies, including the American Academy of Ophthalmology and the Cornea Society.Dr. Colby is now the Elisabeth J. Cohen, M.D. Professor of Ophthalmology and Chair of the Department of Ophthalmology at NYU Grossman School of Medicine.
In 2020, Dr. Colby was appointed chair of the Department of Ophthalmology at NYU Langone Health.