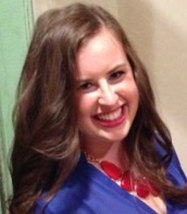 Kathryn Kinasz, MD
2010 Alumni Scholars, Medical Student Scholars
Kathryn Kinasz graduated magna cum laude from the University of Notre Dame in 2010 with a B.A. in English and Psychology and election to the Phi Beta Kappa Society. Following graduation, Kate spent two years working at a strategy consulting firm in Chicago and a year completing her post-baccalaureate pre-medical education at Bryn Mawr College.
Under the mentorship of Daniel Le Grange and with a Medical Student Fellowship from the American Academy of Child and Adolescent Psychiatry, Kate has conducted research on the differences between boys and girls who present for eating disorder treatment. As a 2014 Schweitzer Fellow, Kate is working with the Girls in the Game organization to teach young girls in urban settings health and leadership lessons through participation in sports.
Kate also serves as the co-director of the Washington Park Pediatric Clinic, the co-curriculum director for the Adolescent Substance Abuse Prevention program, and the co-director of the Pediatrics Interest Group. Kate recently returned from a medical service trip to Peru with the REMEDY student group.
Dr. Kinasz is a Psychiatry Resident at University of California, San Francisco in San Francisco, CA.