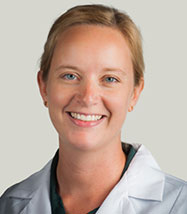 Kelly Hynes, MD
2019 Associate Junior Faculty Scholars
Dr. Kelly Hynes earned her medical degree from the Memorial University of Newfoundland and Labrador, Canada. She then went on to complete her Orthopaedic Surgery residency at the University of Ottawa in Ontario, Canada. She completed her Orthopaedic Foot and Ankle Reconstruction Fellowship at the University of British Columbia in Vancouver, Canada.
Her clinical interests are foot and ankle trauma surgery, adult foot deformity correction and reconstruction and Arthroscopic surgery of the Foot and ankle. She sits on several committees at a national and international level including the Canadian Orthopaedic Foot and Ankle Society Executive Committee, the Ruth Jackson Orthopaedic Society Mentoring Committee and the American Orthopaedic Foot and Ankle Society Young Physicians Committee.
At the University of Chicago, she is the Ambulatory Medical Director for Orthopaedic Surgery, Medical Director of Informatics and a core member of the Quality Committee for Orthopaedic surgery. She is interested in improving efficiency and quality of care through informatics.