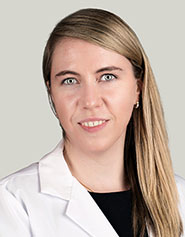 Kinga Skowron Olórtegui, MD
2022 Junior Faculty Scholars
Dr. Olórtegui was born in Poland. She grew up in the countryside outside of Chicago, and eventually moved to the big city.  She received her B.S. From the University of Chicago in 2009, followed by her M.D. from the UChicago Pritzker School of Medicine in 2012. She stayed at UChicago for residency and fellowship, and recently joined the Department of Surgery, Section of Colon and Rectal Surgery as an Assistant Professor. She completed the MacLean Center for Clinical Medical Ethics Fellowship in 2016, and now serves as faculty at the MacLean Center.
Dr. Olórtegui's clinical interest is in the care of patients with diseases of the colon, rectum, and anus, especially inflammatory bowel disease. She is also passionate about improving the quality of surgical care. Dr. Olórtegui is launching the University of Chicago colorectal surgery clinical outcomes database, and is actively collaborating with researchers at other major academic centers in order to improve our understanding of the intricacies of colorectal diseases, surgeries and their outcomes.
In working with trainees, Dr. Olórtegui developed a special interest in teaching and mentorship. During her training, Dr. Olórtegui was honored with the Hans Frimpong Spirit in Surgery Award, as well as the Golden Apple Teaching Award. She was elected to the Alpha Omega Alpha Honor Society by the graduating Pritzker School of Medicine Class of 2019. In her first year as faculty, she was awarded an Excellence in Teaching Award from the Department of Surgery. Dr. Olórtegui is interested in developing a formal curriculum for teaching professionalism to budding surgeons.