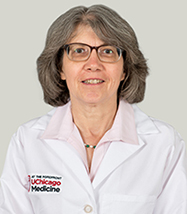 Lainie Ross, MD, PhD
2023 Alumni Scholars, Senior Faculty Scholars
Lainie Friedman Ross, MD, PhD, is the Carolyn and Matthew Bucksbaum Professor of Clinical Medical Ethics; Professor, Departments of Pediatrics, Medicine, Surgery and the College; Co-Director of the Institute for Translational Medicine, and Associate Director of the MacLean Center for Clinical Medical Ethics at the University of Chicago Clinically, Dr. Ross is a primary care pediatrician at The University of Chicago Comer Children's Hospital and provides inpatient care of newborns in the Mother-Baby Unit.
Dr. Ross earned her undergraduate degree in Public and International Affairs from Princeton University, her medical degree from the University of Pennsylvania Perelman School of Medicine, and her doctorate in philosophy from Yale University. She trained in Pediatrics at the Children's Hospital of Philadelphia and New York-Presbyterian Morgan Stanley Children's Hospital.
Dr. Ross' research portfolio concentrates on ethical and policy issues in pediatrics, organ transplantation, genetics, and human subjects protections. She has published four books and over 200 articles in the peer-reviewed literature. Her fifth book, The Living Donor as Patient was funded by a Robert Wood Johnson Award in Health Policy and will be published by Oxford University Press in 2021. She is currently writing a 6th book examining the ethical issues related to siblings in health care that is funded by the National Library of Medicine. She is a frequent lecturer both nationally and internationally and actively involved in teaching ethics to trainees and staff at the University of Chicago Medicine.
Dr. Ross has served on a wide range of professional organizations including the American Academy of Pediatrics Committee on Bioethics, the United Network for Organ Sharing (UNOS) Ethics Committee, the International Pediatric Transplantation Association Ethics Committee, the HHS Secretary's Advisory Committee on Human Research Protections (SACHRP) and the NIH Recombinant DNA Advisory Committee (RAC).
Dr. Ross was a 2014 recipient of a John Simon Guggenheim Memorial Foundation Fellowship and a 2015 recipient of the American Academy of Pediatrics William G. Bartholome Award for Ethical Excellence.
As of January 2023, Dr. Ross is Professor and Chair of the Department of Health Humanities and Bioethics at The University of Rochester.