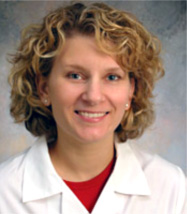 Leslie Caldarelli, MD
2011 Alumni Scholars, Associate Junior Faculty Scholars
Dr. Caldarelli is a neonatologist specializing in the treatment of premature and critically ill infants in the neonatal intensive care unit. She completed her residency and fellowship at The University of Chicago and now serves on the faculty. In addition to her clinical work, Dr. Caldarelli works on improving the quality of medical care, researching medical outcomes and improvements in clinical care.
Her publications include articles on the long-term outcomes of neonatal intensive care and the effectiveness of new teaching methods. She is a dedicated educator and is interested in developing curricula. She also works with education in simulation centers.
As of 2015, Dr. Caldarelli joined the faculty at Northwestern University in Chicago, IL.