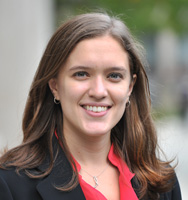 Liese Pruitt, MD
2010 Alumni Scholars, Medical Student Scholars
Liese graduated from Stanford University in 2010 with a BA in anthropology and a BS in biology. She received numerous honors as an undergraduate, including graduation with distinction in biology and anthropology, departmental honors for her senior thesis, and election to Phi Beta Kappa.
As a medical student, under the mentorship of Funmi Olopade, MD, director of the Cancer Risk Clinic and professor of medical and human genetics, Liese has conducted qualitative research on cultural and social barriers to effective breast cancer care in southern Nigeria.
Liese also was selected to serve as a Teaching Assistant for The Human Body course. She is a member of the Pritzker School of Medicine student board and a translator at the Community Health Clinic, a volunteer-run free clinic on Chicago's west side. Liese also is one of the co-chairs of the International Medicine Interest Group at Pritzker.
Liese received a Doris Duke Clinical Research Mentorship Grant and spent the 2013-14 academic year abroad where she conducted a breast cancer knowledge assessment of healthcare workers near Ibadan, Nigeria.
Dr. Pruitt is a Surgery Resident at the University of Utah in Salt Lake City, UT.