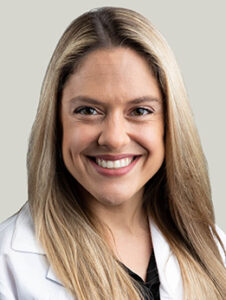 Lindsay Jaeger, MD
2022 Associate Junior Faculty Scholars
Dr. Lindsay Jaeger is an Assistant Professor of Pediatrics in the Section of Pediatric Emergency Medicine, and the Medical Director of the Comer Children's Emergency Room. She is also the Medical Directors of the UChicago Medicine sections of Emergency Medical Services and Disaster Preparedness. Dr. Jaeger received her medical doctorate from Tulane University School of Medicine and completed her pediatric residency training at The Ann & Robert H. Lurie Children's Hospital of Chicago. Her post-doctoral training also included fellowships in pediatric emergency medicine and emergency medicine ultrasound at Washington University in St. Louis School of Medicine and an EMS fellowship at UChicago Medicine.
Dr. Jaeger presented research at several national conventions, including an EMS Telemedicine Pilot project at the National Association of EMS Physicians Annual Meeting. Much of her research experience is multidisciplinary, focusing on pediatrics as well as obstetrics, gynecology, nephrology, and cardiology, among others. Dr. Jaeger also serves on the EMS Medical Directors Consortium committee for Chicago EMS, the EMS for Children Illinois Chapter, and is the Co-Chair of a subcommittee of the National EMS for
Children. Through working with each of these organizations, her focus is on developing EMS protocols, policies, procedures on pediatric cardiac arrest and airway care, transport protocols, and education on medication administration. This focus on pediatric prehospital care reduces health disparities by addressing educational and policy gaps and barriers.