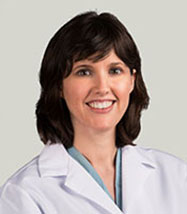 Lisa Marie Cannon, MD
2018 Alumni Scholars, Junior Faculty Scholars
Dr. Lisa Cannon earned her medical degree from the University of Rochester School of Medicine and Dentistry. While there, she took a year to focus on narrative medicine and received a distinction in medical humanities. She also received the John J. Morton and John H. Morton Memorial Scholarship for her focus on patient care.
Dr. Cannon went on to complete her general surgery residency at New York Presbyterian/Columbia University Medical Center. She completed her colon and rectal fellowship at the University of Chicago, and stayed on as faculty. She serves on several committees for the American Society of Colon and Rectal Surgeons. Her clinical interests include inflammatory bowel disease and benign colorectal disorders, implementing enhanced recovery pathways for the section, and prudent use of minimally invasive techniques.
Dr. Cannon has a strong interest in the patient-physician interaction and surgical quality with emphasis on safe patient handoffs and interdisciplinary team communication. She is the recipient of the Department of Surgery Excellence in Teaching Award '16.
In 2012, Dr. Cannon joined the faculty at the University of Rochester in New York.