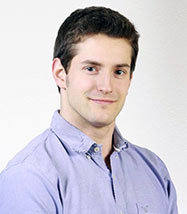 Lukas Matern, MD
2010 Alumni Scholars, Medical Student Scholars
Lukas Matern holds a B.A. in Music and Biochemistry from Columbia University, where he completed dual honors theses and graduated Phi Beta Kappa in 2014. His undergraduate pursuits in chamber music and cello performance brought him to venues such as the Yellow Barn Music Festival and Carnegie Hall.
As a medical student, Lukas has served on the board of the Washington Park Clinic and headed the Surgery Interest Group. He has also cultivated an interest in the development and structure of medical training as a representative on the Preclinical Curriculum Review Committee, and he is currently conducting research with Drs. Jeanne Farnan and Vineet Arora on the assessment of core competencies in residency programs. In his spare time, he continues to perform within the University of Chicago's Department of Music.
Dr. Matern is a Clinical Fellow in Anesthesia at Massachusetts General Hospital in Boston, MA.