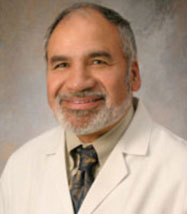 Mahmoud A. Ismail, MD
2017 Senior Faculty Scholars
Dr. Mahmoud Ismail is a Professor in the Department of Obstetrics and Gynecology in the section of Maternal-Fetal medicine. Dr. Ismail is the Co-Director of the UChicago Medicine Perinatal Network and was previously the Section Chief of Maternal-Fetal Medicine.
Dr. Ismail's areas of interests are infections in pregnancy, twin-to-twin transfusion, and mono-mono twins. Dr. Ismail has received numerous awards and recognitions including: America's Top Doctors Award, Chicago Magazine's Top Doctors award for 6 years, and the University of Chicago Distinguished Clinical Award Senior Professor.
Dr. Ismail devotes much of his leisure time to community service and is the founder and trustee of Aqsa School, an Islamic girls' school, in Bridgeview, IL; and, he is a member of the National Arab American Medical Association.