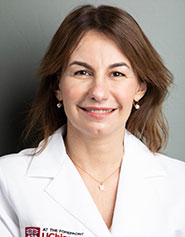 Marina Chiara Garassino, MD
2021 Senior Faculty Scholars
Marina Chiara Garassino, MD, is an internationally recognized expert in the treatment of thoracic malignancies.
Dr. Garassino graduated from the Medical School of Università degli Studi of Milan, Italy, where she also completed her training in Medical Oncology. After a fellowship at the Christie's Hospital in Manchester (UK), she served as a physician oncologist in prestigious Italian cancer centers. She has risen to lead the Thoracic Medical Oncology Unit at one the most renowned comprehensive cancer center in Italy, the Istituto Nazionale dei Tumori of Milan.
She leads the strategy for clinical and translational research in advanced and locally advanced NSCLC, mesothelioma, thymoma and thymic carcinoma due to her effort in the research of drugs development, precision medicine and in immuno-oncology. She gave her contribute as author or coauthor to over 200 peer-reviewed publications, including many publications as first or last author in the Lancet Oncology, Journal of Clinical Oncology, Annals of Oncology, and the New England Journal of Medicine. Some of her publications radically changed the treatment paradigm of and treatment guidelines for lung cancer around the world.
In response the COVID-19 emergency, Dr. Garassino established and brought together an international group of physicians and investigators to study the impact of COVID-19 on patients with lung cancer. This led to the initiation of the Thoracic Cancers International COVID‐19 Collaboration, or TERAVOLT, a global registry for patients with thoracic cancers and COVID‐ 19. Currently, 180 centers from 25 countries have joined the consortium. Data from this consortium have already been ascertained and published in Lancet Oncology and Cancer Cell.
Dr. Garassino has been the recipient of many international awards from prestigious organizations like the American Society of Clinical Oncology, and she is the founder and president of Women for Oncology Italy. She provides strong support in gender equalities believing in the importance and value of creating an environment with diversity.