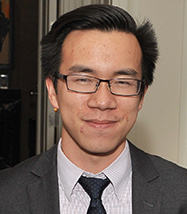 Mark Chee, MD
2016 Alumni Scholars, Medical Student Scholars
Mark Chee graduated from Duke University with a B.S. in Chemistry and minors in Biology and Global Health. Mark is the Patient Satisfaction and Quality Improvement Co-Chair at the Bridgeport Free Clinic, a student-run clinic that serves an Asian American and Pacific Islander (AAPI) community on the South Side of Chicago. He also served as the Asian Pacific American Medical Student Association's National Conference Co-Chair, helping to plan the 2016. Mark has worked on health policy and medical education issues as Pritzker's representative in both the Illinois State Medical Society and Chicago Medical Society Medical Student Sections as well as the Association of American Medical Colleges Organization of Student Representatives.
Under the mentorship of Dr. Vineet Arora, Mark is conducting research about the barriers and facilitators of generic prescribing among providers and how effective messaging about generics can promote generic prescribing.
Dr. Chee is an Internal Medicine Resident at the Brigham and Women's Hospital in Boston, MA.