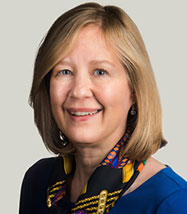 Mary E. Strek, MD
2019 Senior Faculty Scholars
Dr. Mary Strek is Professor of Medicine, Director of the Interstitial Lung Disease Program, and Director of the Pulmonary Medicine Consult Service at the University of Chicago.
Dr. Strek is a pulmonary doctor who studies clinical phenotypes, natural history, outcomes, and therapy in chronic non-malignant lung diseases. Her contributions include the recognition of the role of autoimmunity in airway and parenchymal lung disease and the comprehensive multidisciplinary evaluation of patients with interstitial lung disease (ILD) and bronchiectasis. Her investigations have elucidated the role of ethnicity in patients with ILD and bronchiectasis and mediastinal lymphadenopathy as a "biomarker" prognosticating ILD. Ongoing investigations study the genetic and environmental risk factors associated with chronic lung disease.
Dr. Strek has been an investigator on research supported by the NIH, the Pulmonary Fibrosis Foundation, and the Duchossois Family Institute. Honors include the international CHEST Distinguished Educator Award, the Authur H. Rubenstein Mentorship in Academic Medicine Award, and selection as a Fellow of the American Thoracic Society and the American College of Chest Physicians. She has mentored numerous junior colleagues and trainees to independent academic careers.