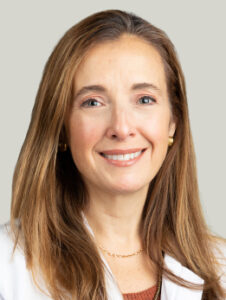 Mary Rinella, MD
2022 Master Clinicians
Mary Rinella, MD, is a board-certified transplant hepatolgist with more than 20 years of experience treating patients with complex liver disease. Dr. Rinella is an expert in nonalcoholic fatty liver disease (NAFLD) and the Director of the Metabolic and Fatty Liver Disease program, focused on comprehensive liver disease assessment and treatment, including nutritional intervention, the use of medications, endoscopy and clinical trials to deliver the most advanced treatment options.

As part of her approach to care for liver disease patients, Dr. Rinella is passionate about using research to advance medicine. She has investigated a broad range of topics within NAFLD, including the use of non-invasive measures to minimize the use of liver biopsy, the management of NAFLD before and after liver transplantation and the study of new therapies to treat NAFLD, since there is still no FDA approved treatment. Dr. Rinella has published nearly 150 peer-review articles in prestigious journals, such as Nature Reviews Gastroenterology & Hepatology, Gastroenterology, Hepatology, Journal of the American Medical Association (JAMA), The Lancet and more.
She is actively involved in the American Association for the Study of Liver Diseases (AASLD), where she has held numerous leadership roles, including councilor-at-large of the AASLD governing board, chair of the AASLD NAFLD Special Interest Group and chair of the AASLD NASH Task Force, which is charged with fostering research collaboration and advancing best practices through collaboration with other medical societies, federal agencies, and patient advocacy organizations to improve outcomes in patients with NAFLD/NASH. A current focus of the NASH Task Force is to structure and implement health policies to increase NAFLD awareness on a national and global level.
Along with her clinical expertise and research accolades, Dr. Rinella is also dedicated to teaching residents and fellows, providing guidance and mentorship throughout their medical careers.