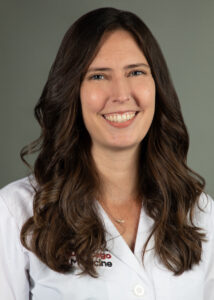 Megan Applewhite, MD, MA
2023 Senior Faculty Scholars
Megan Applewhite, MD, MA, FACS, is a board-certified general surgeon who specializes in endocrine surgery. She is also the Associate Director of the MacLean Center for Clinical Medical Ethics. She completed her general surgery residency at the Lahey Hospital and Medical Center in Burlington, MA, and her fellowship in endocrine surgery as well as clinical medical ethics at the University of Chicago. Prior to joining the faculty at the University of Chicago, she was at Albany Medical College, where she was an Associate Professor of Surgery and the John A. Balint MD Chair for Ethics Education and Research.
Dr Applewhite's clinical practice involves the surgical treatment of benign and malignant diseases of the thyroid, parathyroid and adrenal glands. She focuses her care on engaging in personalized and thoughtful discussions with patients about quality of life and patient reported outcomes for their particular diagnosis.
Her academic interests are in both the quality of care of patients with surgical endocrinopathies, as well as in clinical medical ethics, and the intersection between patient care and bioethics. Specifically, she has an interest in healthcare in the incarcerated patient population, research ethics and informed consent, and military medical ethics. Since 2020, she has served as a Senior Bioethics Consultant to the Department of Defense Medical Ethics Center, which is charged with the development, evaluation and implementation of a systematic Department of Defense Medical Ethics Program across the entire Military Health System/DoD.
As a dedicated colleague and teacher, Dr. Applewhite enjoys the mentoring trainees and junior faculty. She recognizes the importance of team cohesiveness and support as critical to positive culture and flourishing at work.