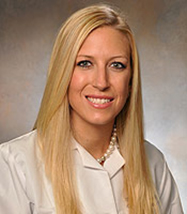 Megan Conti Mica, MD
2017 Associate Junior Faculty Scholars
Dr. Megan Conti Mica, assistant professor of Orthopaedic Surgery in the Department of Orthopaedic Surgery and Rehabilitation Medicine at the University of Chicago Medicine, has extensive expertise in the surgical management of hand and upper extremity surgery including athletic injuries, trauma, arthritis, congenital deformities and complex reconstruction. With her special interest in hand, wrist, elbow and shoulder pathology, Dr. Conti Mica utilizes both minimally invasive (arthroscopic) and microvascular (microscopic) techniques. She is the dedicated hand surgeon for the sports service and works actively with high level athletes.
Dr. Conti Mica obtained her undergraduate bachelor's degree at University of Washington in Seattle, Washington and graduated from the University of Arizona School of Medicine with Honors in Research. She completed her Orthopaedic Residency at Loyola University in Chicago and two post-graduate fellowships. She successfully completed the Fellowship in Hand and Microvascular Surgery at The Mayo Clinic in Rochester, Minnesota and was awarded the Schwartz Travelling Fellowship, an opportunity to expand her education in shoulder and elbow surgery with experts in Europe. Dr. Conti Mica joined the University of Chicago in 2015.
Dr. Conti Mica has a personal interest in international medicine having participated in several international medical missions. She has trained under the instruction of renowned Orthopaedic experts in the United States and abroad.