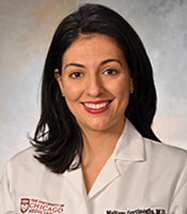 Meltem Zeytinoglu, MD, MBA
2016 Associate Junior Faculty Scholars
Dr. Zeytinoglu's clinical practice emphasizes management and prevention of endocrine disorders, including diabetes, osteoporosis, and obesity, in older adults.
Individuals' risk of acquiring these conditions rises substantially with aging, and older adults represent the largest demographic with these diseases. Unlike many younger adults, as individuals age and acquire different medical conditions, their health status often begins to look very different from that of their age-matched peers.
Despite this, there is limited evidence to guide health-care providers and patients in how to optimize care for metabolic diseases in geriatric patients with heterogeneous health conditions — a group which has frequently been excluded from randomized clinical trials. Dr. Zeytinoglu's research interests are focused on helping to improve this gap and studying methods and treatments for optimizing management of chronic metabolic conditions such as diabetes and osteoporosis in older adults.