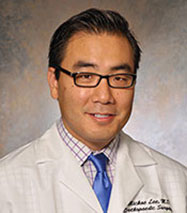 Michael Lee, MD
2015 Senior Faculty Scholars
Dr. Michael Lee is an accomplished orthopaedic spine surgeon who treats a broad spectrum of pathology from a simple disc herniation to complex tumor and deformity of the spinal column.
Dr Lee's research interests are similarly broad. His oft-cited publications include shared decision-making with patients to the stability of the spine using biomechanical cadaveric models to models predicting the safety of spine surgery based on individualized patient and surgical factors. His work led to the SpineSage web model for predicting complication after spine surgery (SpineSage.com). He has presented his research internationally. He has authored 2 textbooks, chaired 4 courses, acquired several grants to support his research and has more than 80 peer-reviewed publications. He also writes a regular column in Clinical Orthopaedics and Related Research focusing on patient safety.
In addition to his research accomplishments, he has been an invited speaker at several national courses teaching surgical spine techniques to other practicing spine surgeons. He serves as manuscript reviewer for several journals including Spine and The Spine Journal.