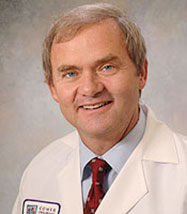 Michael Schreiber, MD
2015 Senior Faculty Scholars
Michael Schreiber, MD, is an expert in neonatal-perinatal medicine and pediatric critical care. He is a member of a multidisciplinary team of specialists that treats more than 1,000 premature and critically ill babies each year.
Dr. Schreiber's research focuses on finding new and better therapies to improve the care and quality of life for premature babies. He served as the director of two important studies showing that inhaled nitric oxide reduced the risk of physical and developmental complications related to premature birth. Dr. Schreiber is also interested in ethical issues associated with neonatal and pediatric intensive care.
A popular teacher and speaker, Dr. Schreiber has lectured at universities, hospitals and medical meetings around the world. He is an author on more than two hundred scientific reports. In addition, he serves as an ad hoc reviewer for many medical publications including the New England Journal of Medicine, Lancet, Journal of Perinatology, Pediatric Research, Journal of Pediatrics, and the American Journal of Respiratory and Critical Care Medicine.