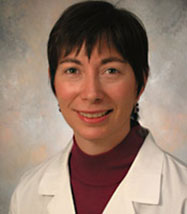 Michelle A. Josephson, MD
2017 Senior Faculty Scholars
Dr. Michelle Josephson is Professor of Medicine and Surgery, serves as Medical Director of Kidney and Pancreas Transplantation, and is Program Director of the Transplant Nephrology Fellowship.
After receiving her MD from University of Pennsylvania she completed a medical internship, residency and nephrology fellowship at University of Chicago. In 1992 she joined the faculty as the first transplant nephrologist at University of Chicago.
Dr. Josephson's mission is to improve the care and outcomes of medically complex transplant patients through direct care, education, and clinical research. Her research projects examine the live kidney donor, post-transplant bone disease, BK virus, and post-transplant pregnancy.
Dr. Josephson is deeply committed to education and established University of Chicago's transplant nephrology fellowship. Dr. Josephson is a member of several national and international working groups, societies, and advisory groups that have developed transplant care guidelines and policies. She served as Councilor for the Board of the American Society of Transplantation (AST) and Chair of American Society of Nephrology's (ASN's) Transplant Advisory Group.