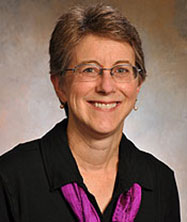 Mindy Schwartz, MD
2015 Senior Faculty Scholars
Dr. Mindy Schwartz is the co-recipient of this years Faculty Physician Peer Role Model Award. Dr. Schwartz joined the faculty in 1987 as a faculty in the Primary Care Group, and has held a faculty position in the Section of General Internal medicine. She has maintained a busy clinical practice in addition to holding a variety of positions in the medical school and in the internal medicine residency program. Dr. Schwartz has been an award-winning teacher and was elected in 2010 as a Master of the University of Chicago Pritzker School of Medicine Academy of Distinguished Medical Educators. Over the past 10 year she has studied and taught medical history to the medical students and to internal medicine residents. In May 2014, she was the local arrangements chair for the national organization of medical historians – the American Association for the History of Medicine.
In addition to her current academic interests, she has taught Nutrition in Health and disease in the Pritzker School of Medicine from 2001-9.
Dr. Schwartz currently serves as one of the medical school advisors- serving along with Brian Callender as the head of the Coggeshall Society. She also serves as the, Chapter advisor for the Gold Humanism Honor Society and she was Former Associate Program Director and Chair of the Internship Selection Committee for the Department of Medicine from 1994-2004.