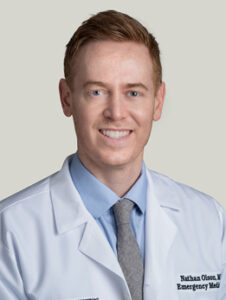 Nathan Olson, MD
2022 Associate Junior Faculty Scholars
Dr. Nathan Olson is an accomplished Emergency Medicine physician and educator. He currently holds the position of Assistant Professor in the Section of Emergency Medicine at the University of Chicago Medicine. Dr. Olson his Bachelor's degree in Microbiology from the University of California, San Diego earned his medical degree from Drexel University College of Medicine in Philadelphia.
Following his medical education, Dr. Olson completed his residency training in the Department of Emergency Medicine at Northwestern University's Feinberg School of Medicine in Chicago. During his residency, he received the Education College Award for Best Procedure Teacher two years in a row. Dr. Olson is an expert in simulation education and held the title of Simulation Program Director for the Emergency Medicine Residency at the San Antonio Military Medical Center. He also served as the Emergency Medicine Clerkship Simulation Director and was responsible for implementing simulation-based training for the residency program.
Currently, Dr. Olson serves as the Simulation Education Director for the Emergency Medicine Residency at the University of Chicago. He has been actively involved in research and has published several peer-reviewed articles in medical journals. His research focuses on topics such as emergency medicine resident grit, non-cognitive characteristics, and wellness curriculum development.
Dr. Olson's commitment to professional development is evident through his active membership in professional societies such as the American College of Emergency Physicians and the American Academy of Emergency Medicine. He has also received numerous awards and honors, including the Outstanding Emergency Medicine Faculty Educator Award from the University of Chicago.
In addition to his academic and research contributions, Dr. Olson remains actively involved in clinical practice. He currently works as an Emergency Medicine physician at the University of Chicago, where he provides clinical care and mentors residents.
Outside of his professional responsibilities, Dr. Olson has contributed to the field through invited speaking engagements, both nationally and regionally. He has presented on topics such as simulation education, wellness interventions, and resuscitation techniques.
Dr. Olson's dedication to teaching extends beyond his own institutions. He has been involved in teaching and mentoring medical students, residents, and fellows throughout his career. He has served as a course director, facilitator, and instructor for various educational programs, including simulation sessions, procedural training, and clinical shifts.
Dr. Nathan Olson is a highly accomplished and respected Emergency Medicine physician and educator. His expertise in simulation education, commitment to research, and passion for teaching have made him a valuable asset to the medical community and the community of UChicago Medicine.