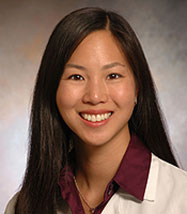 Neda Laiteerapong, MD, MS
2019 Senior Faculty Scholars
Dr. Neda Laiteerapong is an Associate Professor of Medicine in the Section of General Internal Medicine at the University of Chicago and Associate Director of the Center for Translational and Policy Research of Chronic Diseases.
Dr. Laiteerapong attended medical school at Boston University. She then completed an Internal Medicine residency and a Masters of Science in Health Studies at the University of Chicago. In 2012, she joined the Department of Medicine at the University of Chicago.
Dr. Laiteerapong is a productive clinical investigator who is committed to improving physical and mental health outcomes for people with chronic diseases. Her research focuses on individualizing care for adults with diabetes with a special emphasis on dissemination and implementation of evidence for the long-term benefits of early glycemic control. She is also interested in the role health policy and clinical guidelines play in the care of patients with chronic diseases. In addition to her clinical practice, Dr. Laiteerapong serves as a mentor for residents and medical students.