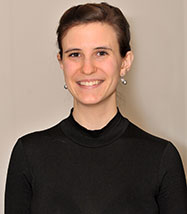 Nicole Dussault, MD
2017 Alumni Scholars, Medical Student Scholars
Nicole Dussault graduated summa cum laude and with honors in Economics from Columbia University, where she was elected to Phi Beta Kappa. As an undergraduate, Nicole volunteered as an Emergency Department patient advocate for survivors of sexual assault. After graduation, she conducted healthcare economics research at the Federal Reserve Bank of New York. Her work on the financial impact of the Affordable Care Act was featured in Liberty Street Economics.
At Pritzker, Nicole is a Quality Improvement Coordinator for the Maria Shelter Clinic, a founding member of Pritzker TECH, and a part of the University's Hotspotting team. Nicole and fellow medical students also spearheaded a project to improve patient care for survivors of sexual assault in the University of Chicago ED, working with Drs. Keme Carter and Sonia Oyola. Under Dr. Matthew Churpek, she is also developing a machine learning algorithm to identify infection in hospitalized patients.
Dr. Dussault is currently an internal medicine resident at Duke Health.