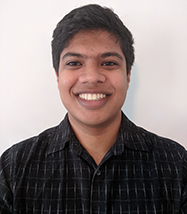 Nikhil Umesh
2020 Medical Student Scholars
Nikhil Umesh graduated from the University of North Carolina at Chapel Hill in 2015 with a B.S. in Environmental Health Science and a minor in Chemistry. Prior to joining Pritzker, Nikhil worked as a violence prevention educator and community health researcher, instructing courses in political economy, race, and the history of social movements. In his free time, he enjoys deepening his interest in cooking, gardening, and propagating fruit trees.
Nikhil serves as a Co-Director of the Maria Shelter Clinic, which serves women and children experiencing homelessness on the South Side. He is also a Student Representative on the Pre-Clinical Review Committee, Community Grand Rounds Student Liaison, and a Student Leader of Students for a National Health Program and Chicago Homelessness Health Response Group for Equity.
Under the mentorship of Dr. Elizabeth Tung and Dr. Monica Peek, Nikhil is conducting research on the urban geography of plasma donation centers and their association with race, place, and poverty. He hopes his work will bring greater public awareness to the global supply chain of plasma, where poor, racialized communities have become a central link.