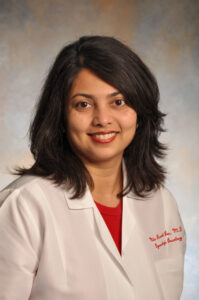 Nita Lee, MD, MPH
2022 Senior Faculty Scholars
Dr. Nita Karnik Lee is a Gynecologic Oncologist in the University of Chicago Department of Obstetrics and Gynecology who specializes in the diagnosis and treatment of women with gynecologic cancers. Her focus is on providing comprehensive and compassionate surgical, chemotherapy and survivorship care to women diagnosed with ovarian, uterine, cervical, vulvar or vaginal cancers throughout their cancer journey. She is skilled in open and minimally invasive surgery, including robotic surgery for gynecologic cancers and complex benign gynecologic conditions. Dr. Lee believes in a personalized approach to treatment that includes tailored surgery, chemotherapy, clinical trials and supportive care. Her dedication to her patients is one of the many reasons she has been named a Top Doctor in Gynecologic Oncology by Chicago Magazine.
Dr. Lee's interests include patient centered research in cancer survivorship, supportive oncology and cancer disparities. Areas of interest include: promoting patient survivor advocacy; HPV and cervical cancer patient navigation and education; lifestyle change and weight management after cancer diagnosis; psychosocial and needs of gynecologic cancer survivors to promote quality of life. She also leads the University of Chicago Woman to Woman Program, a peer-to-peer mentoring program for gynecologic cancer survivors.
Dr. Lee serves as the University of Chicago Comprehensive Cancer Center's Assistant Director of Community Engagement. Through this role, she supports ongoing community collaborative education and research to reduce cancer disparities in the surrounding Chicago communities with a personal focus in gynecologic cancers. She is a passionate patient advocate and partners with organizations and survivors in their advocacy and education efforts. At the national level, Dr. Lee served as the Chair of the Patient Education Committee of the Foundation for Womens' Cancer and a member of the American Society for Clinical Oncology Survivorship Committee.
2013 Pilot Grant Project: Predictors of satisfaction with surgical decision-making in elderly women undergoing gynecologic surgery
2012 Pilot Grant Project: Endometrial Cancer Survivorship in African-American Women