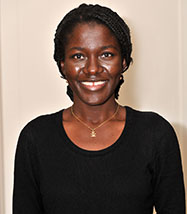 Nzuekoh Nchinda, MD
2017 Alumni Scholars, Medical Student Scholars
Nzuekoh Nchinda graduated from Harvard University in 2014 with an AB in Chemistry and a secondary field in Global Health and Health Policy. During college, Nzuekoh served as the National Region II Vice-President of HOSA-Future Health Professionals. Prior to medical school, Nzuekoh performed translational HIV immunology research at the Ragon Institute and served as a medical scribe at Cambridge Health Alliance. She was also a Crisis Services volunteer for Samaritans, Inc.
As a medical student, Nzuekoh is a co-director of Maria Shelter Free Clinic. She is a co-founder and co-leader of Docs and Debates, which hosts documentary viewings and peer-to-peer dialogue on important social issues. She taught third-grade students through South Side Science Scholars and participated in the JOURNEES service-learning trips to rural Mississippi and South Dakota. Under the mentorship of Dr. Jennifer Moriatis Wolf, Nzuekoh is conducting research on tendinopathy risk factors and treatment decision-making in orthopedic care.
Dr. Nchinda is a Surgery Resident at the University of Washington.