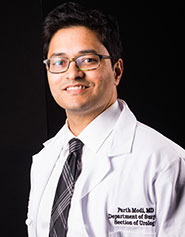 Parth Modi, MD
2021 Junior Faculty Scholars
Parth Modi is an Assistant Professor of Surgery in the Section of Urology and is a specialist in the management of urologic cancers, especially bladder and prostate cancer.
Dr. Modi attended medical school at Northwestern University Feinberg School of Medicine and received his MD in 2011. He completed Urology residency at Rutgers Robert Wood Johnson Medical School in 2017. He subsequently went on to complete Urologic Oncology fellowship training and an MS degree in Health and Health Care Research at the University of Michigan before joining the faculty at the University of Chicago in 2020.
His research is focused on improving the delivery of health care by informing payment and workforce policy. As a Bucksbaum Scholar, he is studying how to optimize the training and utilization of nurse practitioners and physician assistants in the context of surgical care. In addition to his clinical practice and research, Dr. Modi is a faculty member of the MacLean Center for clinical medical ethics with interests in financial conflicts of interest, informed consent, and the ethical implications of health care policy.