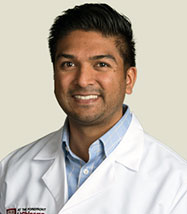 Pritesh Patel, MD
2019 Associate Junior Faculty Scholars
Dr. Pritesh Patel is an Assistant Professor of Radiology with specialization in Abdominal and Pelvic Imaging. He joined the University of Chicago in 2014 after completing an Abdominal Imaging fellowship at Harvard University's Massachusetts General Hospital.
He is actively involved in medical student, resident, and fellow education and serves as the Director of Quality Improvement and Patient Safety for the department of Radiology.
His research interests are centered in leveraging new and existing technology, including artificial intelligence, to improve the quality of patient care and educational content. Given his passion for quality improvement, he is currently working on projects to significantly reduce error rates in oncologic imaging, reduce IV contrast dosage on patients with renal insufficiency, reduce radiation dose by utilizing spectral CT over conventional CT, and appropriately triaging patient for STAT imaging studies in collaboration with the department of Internal Medicine. Other research interests include prostate, liver, and gynecologic imaging.
Most recent publication topics include prostate MRI and the use of natural language processing in radiology reports. Dr. Patel has also presented numerous educational exhibits at major radiologic conferences, and been an invited lecturer to international conferences.