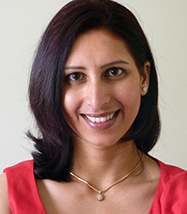 Ranjana Srivastava, MD, OAM
2017 International Scholars
Dr. Ranjana Srivastava MD,OAM, was educated in India, the United Kingdom, the United States, and Australia. She graduated from Monash University with a first-class honors degree and several awards in medicine. Dr. Srivastava undertook her internship, residency and specialist training at various Melbourne hospitals.
In 2004, Dr. Srivastava won the prestigious Fulbright Award, which she completed at the University of Chicago. She was admitted as a fellow of the Royal Australasian College of Physicians in 2005 and started practicing oncology in the public hospital system. In 2014, Ranjana was recognized by Monash University as the Distinguished Alumni of the Year. She was also appointed an adjunct associate professor in the Faculty of Medicine, Nursing and Health Sciences. Ranjana was included in Westpac's 100 Influential Women of 2015.
In 2017, Dr. Srivastava was bestowed with the Order of Australia (OAM) for her work and service to medicine, particularly in the field of doctor-patient communication. The Order of Australia is the principal and most prestigious means of recognizing
outstanding members of the community at a national level; the honor was established in 1975 by Her Majesty Queen Elizabeth II.