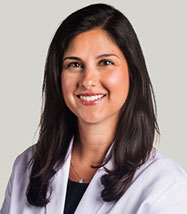 Rebecca Garza, MD
2019 Associate Junior Faculty Scholars
Dr. Rebecca Garza earned her medical degree from the University of Illinois and then went on to complete an integrated plastic surgery residency at Stanford University. She then pursued an additional fellowship year of training in reconstructive microsurgery at the University of Chicago before joining the faculty as an Assistant Professor in the Section of Plastic and Reconstructive Surgery.
Dr. Garza's primary clinical focus is on breast reconstruction, lymphedema surgery, and complex reconstructive surgery of the head and neck, extremities, and trunk. She has additional expertise in cosmetic surgery and is working to strengthen resident education in this facet of plastic surgery.
Dr. Garza's research interests include clinical outcomes in breast reconstruction and lymphedema surgery, as well as studying gender issues and parenthood in surgery.