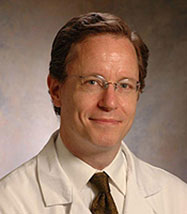 Rex Haydon, MD, PhD
2017 Senior Faculty Scholars
Dr. Rex Haydon is a Professor in the Department of Orthopaedic Surgery & Rehabilitation Medicine and Associate Director of the Molecular Oncology Laboratory. Prior to entering medicine, Dr. Haydon was trained in archaeology and physical anthropology, culminating in a PhD in Anthropology in 1993. He then entered medical school, and completed residency training in orthopaedics, followed by fellowships in research and orthopedic oncology. Dr. Haydon has been a faculty member at the University of Chicago since 2003.
Dr. Haydon's clinical focus is in the treatment of bone and soft tissue tumors of the extremities, and he is part of the Musculoskeletal Oncology Group at the University of Chicago. Dr. Haydon is a superb clinician who seeks to care for his tumor patients with less toxic treatment options, which has lead to identifying novel agents for the treatment of sarcomas and benign tumors.
He serves as the fellowship program director for musculoskeletal oncology.