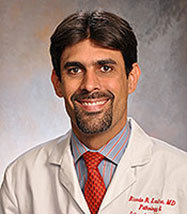 Ricardo Lastra, MD
2018 Associate Junior Faculty Scholars
Dr. Ricardo Lastra is an Assistant Professor of Pathology. He completed with medical training at the Universidad Central de Venezuela, and subsequently completed his residency in Anatomic and Clinical Pathology at Pennsylvania Hospital. This was followed by Surgical Pathology and Cytopathology Fellowships, both at the Hospital of the University of Pennsylvania, and the Advanced Specialty Training Program in Gynecologic Pathology at the Johns Hopkins Hospital.
Dr. Lastra joined the University of Chicago in 2015, and participates in the gynecologic pathology and cytopathology services in the Department of Pathology. He is actively involved in medical student, resident, and fellow education, and is currently section co-coordinator for the Obstetrics and Gynecology Section of the Clinical Pathophysiology and Therapeutics Course at the Pritzker School of Medicine of the University of Chicago. Additionally, he is the program director for the recently approved Gynecologic and Breast Pathology Fellowship at the University of Chicago.
His primary research interest is in the fields of gynecologic pathology and cytopathology, and he has focused on evaluating the use of distinctive morphologic, immunohistochemical, and molecular features in the characterization of gynecologic tract lesions.