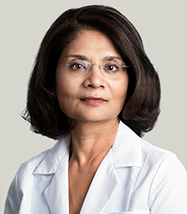 Ritu Verma, MD
2020 Master Clinicians
Ritu Verma, MD, is a highly respected pediatric gastroenterologist who provides compassionate, comprehensive care to children suffering from complex gastroenterology conditions. Dr. Verma is a leading expert in celiac disease and works closely with her patients and their families to manage this condition. She is also committed to ensuring pediatric gastroenterology patients have a seamless continuum of care throughout their journey, which includes a coordinated transition from pediatric to adult gastroenterology programs.
In addition to her clinical practice, Dr. Verma is also passionate about creating a holistic approach to research that merges adult and pediatric robust basic science research in celiac disease, inflammatory bowel disease (IBD) and food allergies with clinical research so that all of gastroenterology is marching towards to the same goal, providing our patients with the latest therapies and access to innovative treatments.
Dr. Verma takes her responsibilities as educator seriously, and she has served as a course instructor, delivers lectures and participates in rounds to teach medical students, residents and fellows about current pediatric gastroenterology care. Dr. Verma has also been published in several peer-reviewed journals, such as the American Journal of Gastroenterology, Journal of Pediatrics, Journal of Allergy and Clinical Immunology, Gastroenterology, Clinical Gastroenterology and Hepatology, Journal of Gastroenterology and Hepatology, Pediatric Diabetes and Nature Genetics.