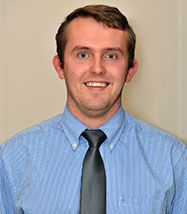 Robert Nolan, MD
2017 Alumni Scholars, Medical Student Scholars
Robert Nolan graduated from the United States Naval Academy with a BS in Chemistry. As a medical student, Bobby has served as a curriculum coordinator for the South Side Science Scholars program, where he helped foster interest in the basic sciences within the Chicago Public School system.
Bobby also served as a co-coordinator of the Washington Park Free clinic, where he was able to incorporate developmental screenings and a program with Reach Out and Read into clinic flow. A Bucksbaum grant helped to support his research this summer, which assessed communication and empathy techniques with patients during conscious procedures.
With the honor and opportunity that this scholarship entails, he hopes to continue to pursue this research while also delving into topics of pre-operative transparency. He also hopes to continue to strengthen Washington Park's outreach and education programs, as well as to extend support to programs treating PTS within the south side of Chicago.