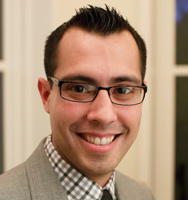 Robert Sanchez, MD
2010 Alumni Scholars, Medical Student Scholars
Robert graduated from Yale University with a BA in the History of Science, History of Medicine. Following his graduation, he was selected as a Congressional Hispanic Caucus Institute Public Policy Fellow in Washington, D.C., where he served in the U.S. Senate in the office of Senator Barack Obama and in the health policy office of Senator Ted Kennedy. After completing the fellowship, he began work as a health policy analyst for the National Council of La Raza (NCLR), the largest national Latino civil rights and advocacy organization in the United States.
As a medical student, Robert is the co-coordinator of Community Health Clinic, a volunteer-run clinic on Chicago's west side. He also serves as the Admissions Chair for the Student National Medical Association, and sits on the Pritzker Dean's Council as class representative to the Association of American Medical Colleges. Under the mentorship of Monica Peek, MD, MPH, he completed his research paper "Shared Decision-Making Preferences and Behaviors of Hispanic and non-Hispanic White Patients with Diabetes," which earned Honorable Mention for Excellence in the Pritzker Summer Research Program.
Dr. Sanchez is an attending physician at Lurie Children's Hospital of Chicago.