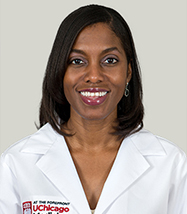 Rochelle Naylor, MD
2020 Associate Junior Faculty Scholars
Dr. Rochelle Naylor is an Assistant Professor of Pediatrics with a secondary appointment in Medicine, Section of Adult and Pediatric Endocrinology, Diabetes, and Metabolism. Dr. Naylor completed medical school training at Mayo Clinic in 2005. She has been at the University of Chicago since that time, completing pediatrics residency training, a chief resident year and pediatric endocrine fellowship prior to joining the faculty at the University of Chicago in 2012.
Dr. Naylor is a co-Investigator of the US National Monogenic Diabetes Registry housed at the University of Chicago. Her research focuses on maturity-onset diabetes of the young (MODY) – addressing delays in accurate genetic diagnosis and appropriate management of various subtypes, and racial and ethnic inequities in who benefits from diabetes precision medicine. She has an interest in other forms of atypical diabetes, and is an investigator in the Rare and Atypical Diabetes Network (RADIANT). She has mentored all levels of trainees, from undergraduate to post-graduate, in diabetes research.
Dr. Naylor also serves as an Associate Program Director for the Pediatrics Residency Program. She is actively involved in resident and fellow education and training. She additionally serves as an advisor to medical students, resident and fellows.