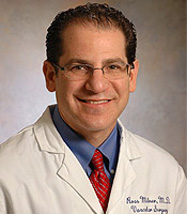 Ross Milner, MD
2012 Master Clinicians
Dr. Milner attended medical school at the University of Pennsylvania and then completed his residency training in General Surgery as well as fellowship training in Vascular Surgery at the Hospital of the University of Pennsylvania. He received numerous teaching awards during his time as a resident and fellow at Penn. At the end of his fellowship, he was awarded the Marco Polo Fellowship from the Society for Vascular Surgery. As the Marco Polo Fellow, he worked at the University Medical Center, Utrecht, The Netherlands studying aortic aneurysmal disease and endovascular therapy. He performed the initial work investigating the value of remote pressure sensor use for surveillance of aneurysms after endovascular repair.
Following the fellowship, he joined the faculty at Emory University first as Assistant Professor and later as Associate Professor and Program Director of the Vascular Surgery fellowship. He moved to Chicago in 2009 after accepting the position of Chief of Vascular Surgery at Loyola University Medical Center. In January 2012, he was recruited to the University of Chicago Medicine as Associate Professor and Co-Director of the Center for Aortic Diseases. He is passionate about the care of vascular patients with a specific clinical and research focus on aortic aneurysm disease.
2013 Pilot Grant Project: "A Formal Curriculum in Surgical Professionalism and Ethics": To enhance and encourage the professionalism of surgical residents and their understanding of the central concepts of surgical ethics
2013 Pilot Grant Project: Improving Professionalism for Physicians in Training: A Curriculum based Approach.