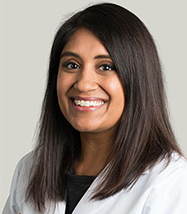 Ruchi Singla, MD
2020 Associate Junior Faculty Scholars
Ruchi Singla, MD, is an Assistant Professor in the section of Allergy/Immunology. She is board certified in providing care to both pediatric and adult populations with allergic diseases and congenital immune deficiencies.
She received her undergraduate education at The Ohio State University and attended medical school at Northeast Ohio Medical University. She completed pediatrics residency at the University of Michigan and specialized in allergy/immunology at The Ohio State University and Nationwide Children's Hospital before joining the faculty of the University of Chicago.
She is actively involved in resident and medical student education and serves as the director of trainee elective rotations to provide exposure to the field of allergy/immunology. She is currently working to establish the first ever allergy/immunology fellowship training program at the University of Chicago.
She has special interest in removing penicillin allergy labels, which have been shown to lead to inferior treatments and increased healthcare costs and complications. She is dedicated to engaging multiple disciplines across the healthcare system to de-label such allergies and ultimately improve patient care. She is equally passionate about patient education and continually seeks ways to improve provider and patient communication.