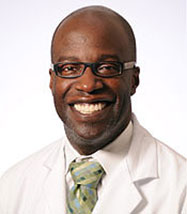 Russell R. Reid, MD, PhD
2017 Senior Faculty Scholars
Dr. Russell Reid is a Professor of Surgery and the Bernard Sarnat Scholar of Craniofacial Research. Dr. Reid is a highly skilled surgeon who specializes in pediatric plastic surgery. Each day, he utilizes his clinical expertise in the area of craniofacial and maxillofacial surgery, to improve the lives of children needing surgery of the face, jaw, palate, and skull.
Dr. Reid attended Harvard Medical School; he completed his internship and residency at Northwestern University, and fellowship in craniofacial surgery at the University of Pennsylvania.
Dr. Reid's research interests include the regeneration of bone for the repair of complex craniofacial defects, the biology of skull and facial sutures, and genetic expression in craniofacial development. He co-directs the multidisciplinary Cleft and Craniofacial Clinic at UCM. Additionally, Dr. Reid leads a team of more than 50 surgeons, nurses, anesthesiologists and other volunteers through the Fresh Start Caring for Kids Foundation, providing free reconstructive surgeries for children impacted by congenital deformities, trauma or abuse.