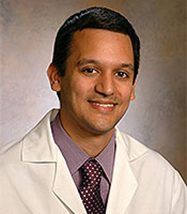 Sachin Shah, MD
2014 Associate Junior Faculty Scholars
Sachin Shah, MD, provides comprehensive primary care to adults and children of all ages in both inpatient and outpatient settings. He also has an active interest in global health.
Dr. Shah is working to improve meaningful use of electronic health records. He hopes that this work will lead to improved communication between physicians and patients, and better outcomes in the medical management of chronic disease.
Committed to teaching medical students and residents, Dr. Shah serves as the Associate Director for Education in the Med-Peds Residency Program. He works closely with trainees, emphasizing the foundations of clinical medicine, clinical reasoning, and the role of humanities in medicine.