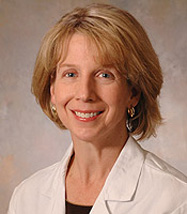 Sandra Culbertson, MD
2012 Alumni Scholars, Senior Faculty Scholars
Dr. Culbertson is a Professor of Obstetrics and Gynecology and the Vice Chairman of Clinical Affairs. Dr. Culbertson is an expert in the diagnosis and treatment of urogynecologic conditions, including: urinary incontinence; prolapse of the vagina, bladder and/or uterus; and other disorders of the pelvic floor. She specializes in vaginal and minimally invasive surgical treatment of urinary incontinence and prolapse, including robotic surgery. She is part of an interdisciplinary care team in the Center for Pelvic Health.
Dr. Culbertson often lectures on the surgical treatment of urinary incontinence and prolapse at universities and scientific meetings. She has been recognized for outstanding resident teaching and has won the Golden Apple Award for teaching excellence three times at the University of Chicago. Dr. Culbertson is actively involved in increasing public awareness of female pelvic floor disorders through her work with the American Urogynecologic Society.
2013 Pilot Grant Project: Predictors of satisfaction with surgical decision-making in elderly women undergoing gynecologic surgery
Dr. Culbertson is now a physician at Geisinger Caring in Danville, PA.