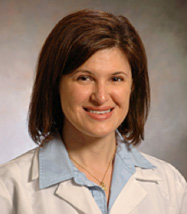 Sarah Collins, MD
2013 Alumni Scholars, Associate Junior Faculty Scholars
Sarah Collins, MD, is a specialist in urogynecology. In the Center for Pelvic Health, Dr. Collins works with a multidisciplinary team of experts dedicated to helping patients overcome physical, social and emotional challenges associated with pelvic floor disorders.
Dr. Collins is skilled in open, robotic, laparoscopic, and vaginal surgical techniques. In her research studies, she has investigated ways in which treatment for pelvic floor disorders affect quality of life.
2013 Pilot Grant Project: Predictors of satisfaction with surgical decision-making in elderly women undergoing gynecologic surgery
As of 2016, Dr. Collins joined the faculty at Northwestern University in Chicago, IL.