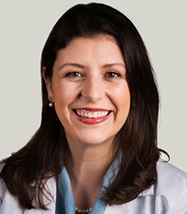 Sarah Sobotka, MD, MSCP
2020 Junior Faculty Scholars
Dr. Sarah Sobotka is Assistant Professor of Pediatrics in the Section of Developmental and Behavioral (DBP) Pediatrics, Department of Pediatrics and Medical Director of the Comer Outpatient DBP Program.
Dr. Sobotka received her medical degree from the University of Chicago Pritzker School of Medicine and Master of Science for Clinical Professionals from the Department of Public Health Sciences. She completed residency training in Pediatrics at Northwestern University/Lurie Children's Hospital and subspecialty DBP Training at the University of Chicago. Since 2017 Dr. Sobotka has served as Associate Director of the IL Leadership Education in Neurodevelopmental and Related Disabilities (IL-LEND) Program, which provides long-term, graduate-level interdisciplinary training to improve the health and well-being of individuals with disabilities.
Dr. Sobotka is currently funded by the NICHD for a project utilizing mixed methods to study children with invasive home mechanical ventilator assistance and to describe patient, family, and healthcare system factors which influence long hospitalizations and readmissions. Dr. Sobotka is interested in developing interventions for children at risk for severe neurodevelopmental disabilities, particularly those who have survived critical illness, to reach their developmental potentials.