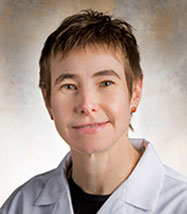 Sarah Stein, MD
2017 Senior Faculty Scholars
Dr. Sarah Stein is an Associate Professor of Medicine and Pediatrics in the Department of Medicine, Section of Dermatology, where she is the Director of Pediatric Dermatology. She is an expert in the diagnosis and management of childhood skin diseases, including dermatitides, pigmentary disorders, birthmarks, vascular anomalies, disorders of hair and nails, infectious skin conditions, and cutaneous manifestations of internal diseases.
Dr. Stein has a special interest in the presentation of skin disease in children of color. She is a member of the Pediatric Dermatology Research Alliance and collaborates on research initiatives to better characterize and manage pediatric skin disorders.
Dr. Stein is the Dermatology Residency Program Director and has developed initiatives to improve resident continuity of care experiences and adoption of the milestone evaluation process. She is a fellow in the Academy of Distinguished Medical Educators and she has received the Department of Medicine's Excellence in Education and Clinical Care Award and the Department's Postgraduate Teaching Award.